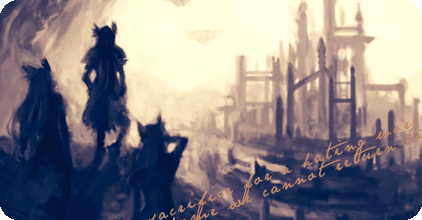 → This is my journal. I will write whatever I want in here. I'll bitch if needed, do random posts or just won't update at all. Don't like, don't bother me about it.

→ Don't add me out of the blue. Really. At least make sure we have something in common.

→ Open-minded. Atheist. Hate discrimination. Firm believer of equality. I don't want to change anyone's beliefs but don't expect to change mine.

→ Drama. You start it, I end it. Staying quiet? Gee, what is that?

→ Don't talk on my back, it annoys me. Don't call me childish, makes me very annoyed. Don't make yourself better than everyone else. I have little patience for that.

→ Please, write conveniently. It's not that hard. My mother language is portuguese and I attempt not to murder English. So, do not force me to think overly hard in what you wish to say. I won't bother.

→ My friends are very important to me. Let's not start something that won't end well.

→ I won't bother with friend's cuts. I will comment when I feel like I have something to say. A friendship to me isn't based on comments, as much as I like reading from people. That said, don't expect me to comment in every single post.

→ Comment and I'll add back without much problem. Despite what the above may show, I am not nearly as strict.